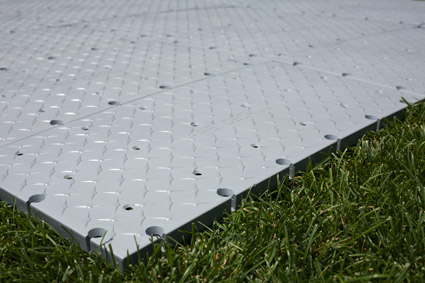 Welcome to FastDeck®
FastDeck Portable Flooring is designed and manufactured in the USA and backed by the highest-rated customer service in the industry. FastDeck is an extremely durable portable flooring system that is remarkably easy to deploy and remove, no special tools or training is required.

FastDeck has countless applications. It's perfect for stadium turf protection, event and tent flooring, portable walkways, ice arena floor covering, military shelter flooring, portable vehicle access paths, or any other situation requiring a layer of protection between the ground and user.

FastDeck simply 'snaps' together with no need for tools or expertise of any kind - and removal is just as easy. The multi-patented FastDeck design makes cleaning painless, just hose off the slip-resistant surface and you're ready for the next event.
Socket Lock-it™
The incredibly strong, multi-patent pending, Socket Lock-It™ connection system is self-aligning and a 'snap' to use. The whole system 'snaps' together with no tools or messy glue, and removal is just a matter of unsnapping the tiles. Anyone can do it! Between events, the system can be stored in sheets or rolled up like carpet.